Understanding Your Skin Type: What You Need to Know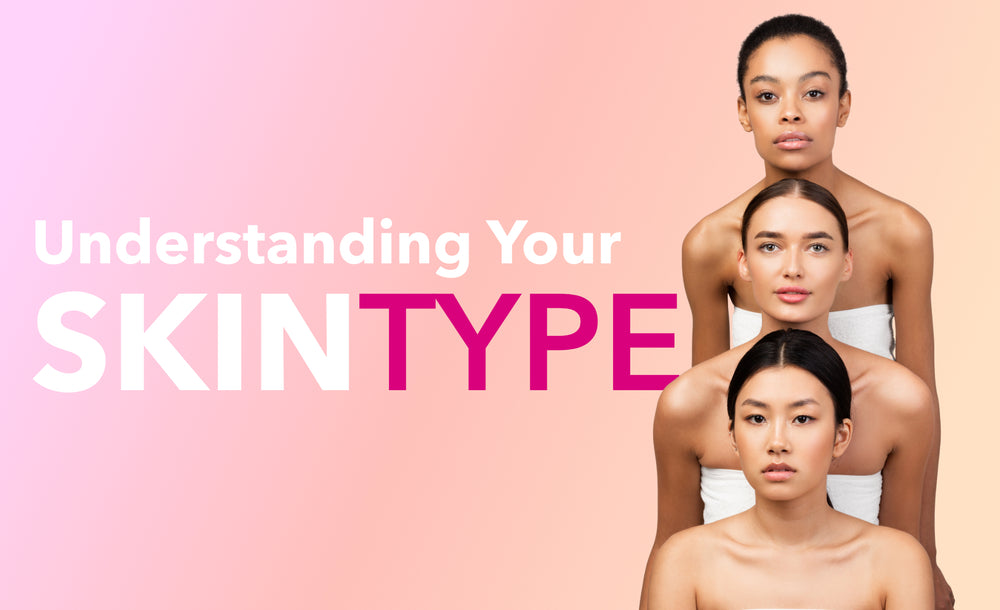 Understanding your skin type is essential for achieving beautiful glowing skin.
Knowing your skin type is essential for building an effective skincare routine that works for you. Everyone's skin is unique, but generally, there are five main skin types: normal, dry, oily, combination, and sensitive. In this article, we will go over each skin type, how to identify them, and tips on how to care for each one.
Also Read: What's My Skin Type

Normal Skin Type
Normal skin is balanced, with a healthy amount of sebum (oil) and moisture. It's not too oily or too dry and has a smooth texture. If you have normal skin, consider yourself lucky! Though your skin generally doesn't go through major fluctuations, it is important to still care for your skin. To keep your skin looking its best, cleanse your face daily, moisturize daily and exfoliate once or twice a week. Don't forget to use sunscreen to protect your skin from UV damage.
Dry Skin Type
Dry skin lacks moisture and can feel tight, rough or itchy. It can also look dull and flaky. If you have dry skin, use gentle, hydrating products that help retain moisture. Look for products that contain humectants like hyaluronic acid, glycerin and aloe vera. Avoid using hot water when washing your face as this can further dry out your skin. Use lukewarm water instead and pat your skin dry with a soft towel. Use a moisturizer twice a day and consider incorporating a facial oil for extra hydration.
Oily Skin Type
Oily skin produces an excess amount of sebum. This can leave your skin feeling looking greasy and prone to breakouts. If you have oily skin, you may notice that your skin looks shiny, especially in the T-zone (forehead, nose, and chin). Use a gentle, non-comedogenic cleanser that doesn't clog pores every day to remove excess oil and impurities. Look for products that contain salicylic acid or benzoyl peroxide to help keep breakouts at bay. Use a lightweight oil-free moisturizer and don't skip sunscreen.
Combination Skin Type
Combination skin has a mix of oily and normal or dry areas. Usually, the T-zone (forehead, nose, and chin) is oily, while the cheeks are normal or dry. If you have combination skin, use a gentle pH-balanced cleanser to avoid stripping your skin of its natural oils. Use a lightweight moisturizer on your dry areas and avoid using heavy moisturizers on your oily areas. Consider using different products on different areas of your face, depending on your skin's needs.
Sensitive Skin Type
Sensitive skin can be challenging to manage. It's easily irritated and can react to many different ingredients, causing redness, itching and inflammation. If you have sensitive skin, look for products that are fragrance-free and don't contain harsh chemicals. Use a gentle cleanser and avoid using hot water when washing your face. Look for moisturizers that are labeled "sensitive skin," and consider patch-testing new products before using them on your entire face.
In conclusion, identifying your skin type is the first step in creating a skincare routine that works for you. Remember that everyone's skin is unique and you may have more than one skin type. Be patient when trying out new products and listen to your skin's needs. With the right skincare routine, you can achieve healthy, glowing skin.
Taking the Skin Quiz
Once you understand your skin type, you can take our skin quiz to find the right products for your skin concerns. We make products for normal, oily, dry, sensitive, combination and acne-prone skin types.